THE 400K PROTEST
Augmented reality and Kinect technology as tool for political involvement
part of the INFECTED Hackathon event at – Center of Design and Technology.
Augmented reality technology is –
disrupting the way people communicate and interact on a global level.
One major area in which this technology is rapidly accelerating the spread of
new ideas and current trends of consciousness to the masses,
is in Political and Social arenas.
Our physical and virtual life is becoming one and our decisions in
both Ecosystems will equally affect our life, society and the world we live in.
No borders, no boundaries and no psychical distance will stop
people from being active and pursuing their interests on a global level.
Whether its war, economic trends, an ecological crisis or just a music show that people would like to see –
we will be able to interact, share our views, experiences, ideas and passions.
The following example shows focuses on the political demonstrations that climaxed in a demonstration where 400 thousand Israelis from all ages and sectors marched together in a cry for social justice. While Kinect technology is typically associated with the gaming industry, this project tries to position technology in general and advanced sensors as a relevant tool for enhancing and augmenting our social involvement.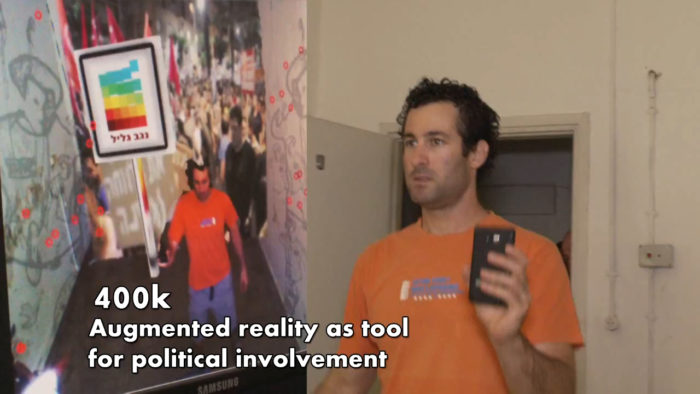 Idea Development:
Barak Koren & Michael Fink.

Implementation:
Barak Koren.
Sound (Used in the exhibition ) :
Amit Nadir
Bit2Be Music & Jingles
http://www.bit2bemusic.co.il
Short video of the event.

Edited By Michael Fink.